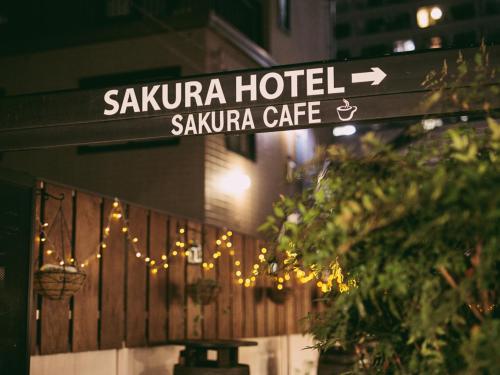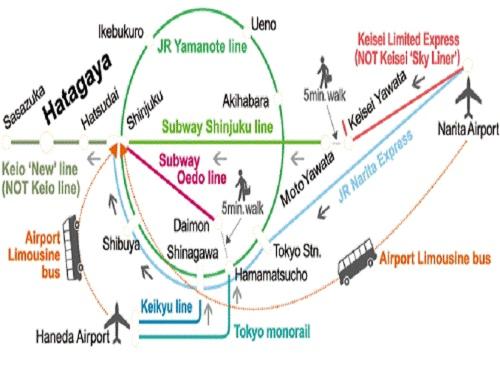 Haneda Airport (Tokyo Airport)
------------------------------------------------------------
From Haneda Airport (Tokyo Airport)
------------------------------------------------------------
By Bus + Train
>> Limousine Bus Transfer search [click]
>> Train Route Finder [click]
◆Haneda Airport
↓ Airport Limousine Bus
◆Shinjuku Station
↓ Keio New Line
◆Hatagaya Station
------------------------------------------------------------
By Train
>> Train Route Finder [click]

◆ Haneda Airport
↓ Keikyu Line
◆Shinagawa Station
↓ JR Yamanote Line
◆Shinjuku Station
↓ Keio New Line
◆Hatagaya Station

From HATAGAYA Station to SAKURA HOTEL HATAGAYA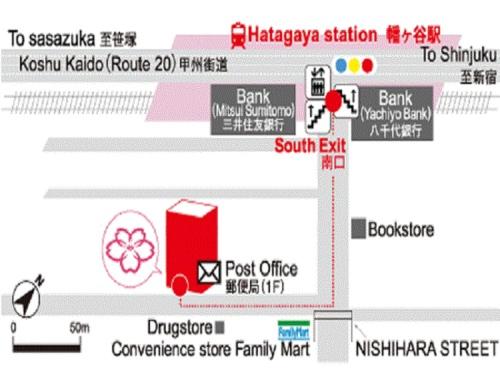 Turn left at the ticket gate and go up the stairs. There are two stairs that lead to ground level, but both of them are called "South Exit". Walk south (away from of "Koshu Kaido", the big street) for two blocks, then you will see an arch and a convenience store "Family Mart". Turn right at the corner and you will find us on the right. The entrance to our hotel is behind the post office.
Tokyo Subway Ticket
We'll show you a super good deal tokyo subway ticket
that allows 1.2.or 3days of unlimited rides on all Tokyo Metro and
Toei subway lines available at Sakura Hostel/Hotel!
It's cheaper than the one you can get at subway stations and
2days/3days pass are also available!It makes your travel
more convenient and comfortable!